IT downtime can impact performance of critical network elements and IOT devices, and poses a great threat to business production. It is significant to know the typical reasons behind the downtime to avoid future consequences in amid business growth.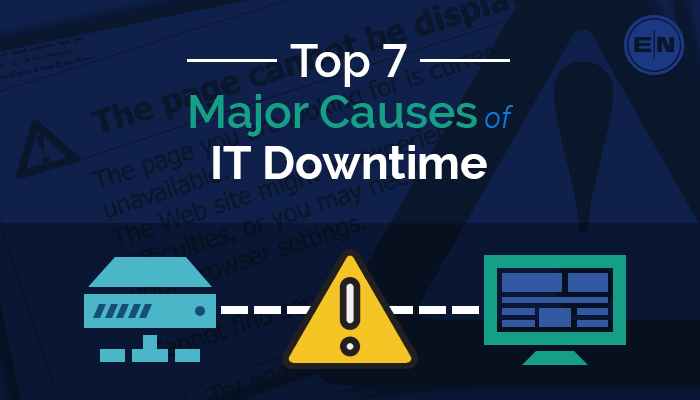 It's no surprise that as our digital age advances, a major concern for mid-size and large enterprises is IT downtime. During technological failures and outages, companies can experience millions of dollars in damages.
Technology marketing research company Infonetics Research recently conducted a survey regarding IT downtime for large, medium and small businesses. What they found was that medium and large companies are losing as much as $100 million per year due to server, application and network downtime annually, while small businesses are losing an average of $4 million, or half their total revenue.
Examples of IT Downtime Incidents in Popular Companies
Not sure who IT downtime actually affects? The following reports on Twitter show recent examples of large scale IT outages, and how customers and employees were affected when they occurred:
Arvixe, a web hosting company, experienced a server outage.
Netherlands-based company Netvictory B.V., which provides internet and domain registration, recently experienced a complete network outage at their datacenter.
Marino Studios PE gaming community had a system outage that prevent users from accessing their servers.
Minesuperiro, a gaming community, network was down.
Access bank PLC, a Nigerian based bank, was going through network downtime which has troubled the customers to carry out transactions.
Gaming community Sky Regions had network downtime that upset frequent users of the community.
Here are the 7 Most Common Causes of IT Downtime According to ITIC Survey, and ExterNetworks Shares Resolution to Address Them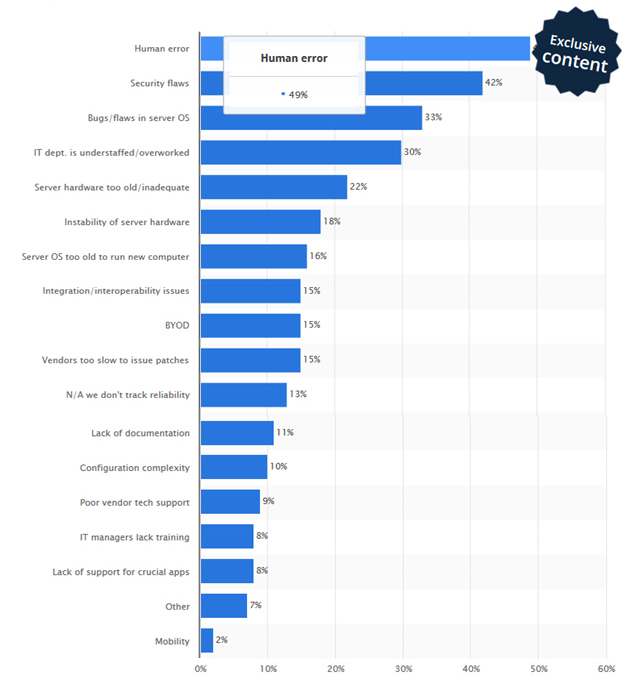 In 2015, ITIC conducted a survey that analyzed issues causing server downtime. The following seven were the most common.
1. Human Error
The most significant and frequent cause for IT downtime is human error. In fact, 49 percent of respondents in the ITIC survey reported that the main reason their server goes out is because of human error. While human error is not completely avoidable, errors often happen because employees choose not to follow set protocols or standards.
If your company wants to avoid network downtime due to human error, the following steps can help:
Documenting each task step-by-step to ensure that a standard procedure is always followed.
Ongoing assessment for IT employees can help them stay abreast of the latest updates, device configurations and security challenges.
Having secure access policies can ensure that the network does not fall into the wrong hands.
If your company is BYOD, ensuring that policies are standard and well-understood by your entire team.
2. Security Flaws
Vulnerability in a network may create the opportunity for hackers to encroach across the LAN or WAN, resulting in downtime. About 42 percent of companies surveyed believed that security problems resulted in network and system outages.
In order to avoid security flaws, your company should have a conceptualized, proactive security strategy to deal with emerging threats. This resource from Digital Ocean can help your company ensure its servers are properly secured.
3. Bugs in a Server's OS
The third most common cause for server downtime is bugs in a server's operating system, with 33 percent of respondents reporting that bugs caused their servers to fail.
According to a 2014 survey by the National Vulnerability Database, the most vulnerable operating systems were Microsoft Windows 2008 and Microsoft Windows 2012, which each had 38 vulnerabilities, and Linux Kernel, which had 128 vulnerabilities (24 of the most high-severity).
4. Understaffed IT Departments
There are many distinct tasks required to keep up an enterprise's network, applications and servers 100 percent of the time. If the enterprise does not have enough staff to monitor or manage updates, then IT downtime can result.
For instance, 30 percent of ITIC's respondents say that IT understaffing resulted in server issues. In order to avoid these issues, it's essential that companies designate a budget to hire a dedicated workforce that can manage IT needs.
5. Outdated Hardware
If your company has old hardware, it can cause IT problems like data traffic flow congestion and the inability to execute complex applications (which require the latest hardware). Twenty-two percent of ITIC respondents reported that "old server hardware" caused their server downtime.
In order to avoid long-term outages, it's essential to keep hardware up-to-date. Just how often do you need to update server hardware?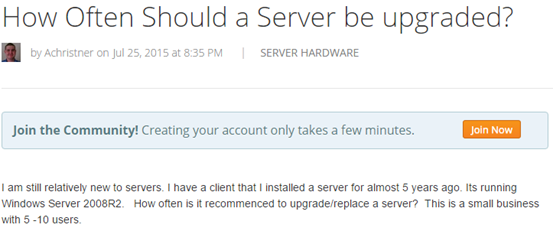 According to IT expert Rod McGarrigle, who posts to Spicehead, it is best to replace your servers on a five-year basis.
6. Instability of Server Hardware
Sometimes, even though server hardware is relatively up to date, WAN or LAN are working perfectly and there's no traffic congestion, the server is still unstable. This can happen when IT departments attempt to use new technology with old hardware. In the survey, 18 percent of respondents reported that "instability of server" caused a server outage at their company.
Servers can crash for a variety of reasons: faulty ram, power supply glitches, damage to hard disk platter, bugs, firmware upgrades and more. In order to avoid IT outages from unstable servers, servers need 24/7 monitoring. Monitoring can ensure timely replacement and a healthy environment to avoid downtime.
7. Server OS Too Old for New Computers
Finally, 16 percent of respondents reported that major IT outages were caused by servers that were too old to run new computers. Often, IT managers try to stay on top of evolving technology and hardware — but they don't update outdated software. However, servers can experience significant outages due to incompatible operating systems. Companies should ensure they stay on top of both hardware and software updates to avoid any significant IT outages.
If you work in IT and want to be certain your company doesn't experience IT outages, proactive assessment of software and hardware statuses, as well as 24/7 monitoring of critical devices, can prevent server and networking downtime. By staying on top of what's happening on your servers, you can ensure employees and customers have access to the services they need most.
Conclusion:
ExterNetworks.com, managed IT service provider, recommends the first step to address downtime time is through business continuity management(BCM) which will identify varied threats to the organizations and ensure essential resources function persistently. Technology experts at ExterNetworks also recommends that 24/7 monitoring of Applications, Network Devices and Servers prevent  of any critical device and enterprise network from downtime.