A network operations center (NOC) provides an integral element of any organization that uses networked systems of any type. An organization may use in-house personnel or outsource its network operations center (NOC).
Network Operations Center (NOC) : Defined
A network operations center (NOC) houses the equipment and personnel for monitoring a network of computers, mobile devices and Internet of Things devices, aka smart devices. It may also include management of telecommunications and satellites. The latter inclusion are common in the military and GIS and remote sensing businesses. Some organizations operate multiple network operations centers (NOC's). They may all monitor the same network to provide redundancy, in case one goes down, or each may monitor a part of a large network (a sub net). Many types of organizations operate network operations centers (NOC's) including: businesses, government agencies, public utilities and universities. Any sized network, whether two or more than 2,000 computers, requires network monitoring by the organization that created it.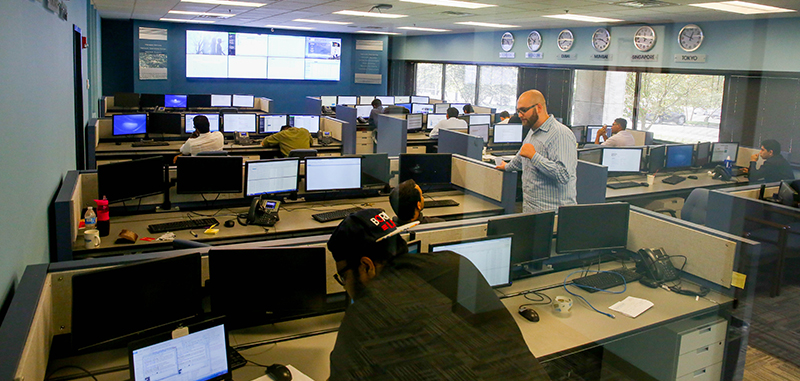 A Short History of the First Network Operations Center (NOC)
network operations centers (NOC's) first appeared as a feature of business in the 1960s. AT&T set up its New York-based Network Control Center in 1962. It used status boards to display real-time routing and switch information from its key toll switches. The company updated and moved the center to Bedminster, New Jersey in 1977.
Historically, humans monitored all systems at the network operations center (NOC). Now, automated software monitors many items. This modernization frees human engineers to focus on problem solving that optimizes the network. During an emergency situation, monitoring software provides data to the engineer that helps address network anomalies.
Network Operations Center (NOC) Design: Best Practices
A typical network operations center (NOC) resembles a newspaper newsroom. A television plays a 24 hour news station, so employees can monitor world events that could impact the network. It usually features long tables with monitors attached to computer work stations. The network technicians monitor network status from these. Rather than a news board, the room features a backbone overview. Many network operations centers (NOC's) include a safe for storage of backups, cryptographic hardware devices and passwords. Once social media popularized, network operations centers (NOC's) added a social networks monitor to their design to view breaking news, including posts by citizen journalists. This mini data center also includes an adjacent room that features a boardroom like layout. The NOC employees use it for brainstorming quick responses to ongoing incidents.
Up-to-date equipment and software prove just as vital to a network operations center (NOC) as the people working on them. Some businesses hesitate to spend the money to update their NOC computers and, especially, alarms. Out of date systems require more personnel to monitor, costing the company more. An annual analysis of hardware and software can solve this issue by identifying problems. Follow through in updating outdated or worn equipment keeps a center running optimally.
Managing a Network Operations Center (NOC)
NOC's employee engineers and network technicians. Their duties include:
net flow monitoring,
server monitoring,
endpoint monitoring,
hardware installation,
software installation,
user support.
Many issues may arise that get in the way of optimal network function, dealing with these problems quickly and efficiently is the duty of the network engineer. Examples of these common issues include: DDoS attacks, power outages, network crashes, and black-holes in routing. A network operations center (NOC) may have personnel who install routers or software like firewalls, but they don't function as a help desk. They respond to incidents that degrade or down the network, but do not handle issues like answering questions about Microsoft Excel or Word. Your business should have a computer technician who answers common software questions, updates software apps and handles setting up new printers or changes toner.
Business Services for Network Operations Centers (NOC's)
In the 21st century, rather than hire an in-house team to monitor network performance, many companies outsource. They rely on managed service providers to monitor and respond to issues with their networks. These service providers may provide full life cycle support including design, deployment and monitoring. These service providers still provide 24-hour monitoring and local response. If you choose a business service, look for a service provider with many years of experience, a history of happy clients and client list growth.
While they don't sit at physical desks in your offices, a NOC service does provide real time network management using the same performance monitoring by NOC engineers with monitors on their desk. Their desks just aren't in your office. They provide a sensible solution for large networks to keep up optimal performance of networks. These management services often contract with local professionals throughout the country to provide quick response to network failures, communication, line alarms and other performance issues that may affect regular operations. They save you money by working from a centralized location to handle monitoring and management of ongoing incidents and general network performance using their own equipment.
Another money-saving item, their service plans, let you purchase only the services you need. Perhaps you need monitoring handled 24/7/52, but on-site repairs pose no problem. You can choose a plan that only includes monitoring. If you don't want to hire in-house IT at all, you can choose a full-service plan that includes monitoring and problem solving/repair.
The duties of a Network Operations Center (NOC) remain the same regardless of its location. Some centers may observe larger networks, and some may include satellites or telecommunications equipment. Whether in-house or a business service, it provides a key piece in business continuity and security that successful businesses should not ignore.
What is a Network Engineer?
What is Mobile Device Management? (MDM)